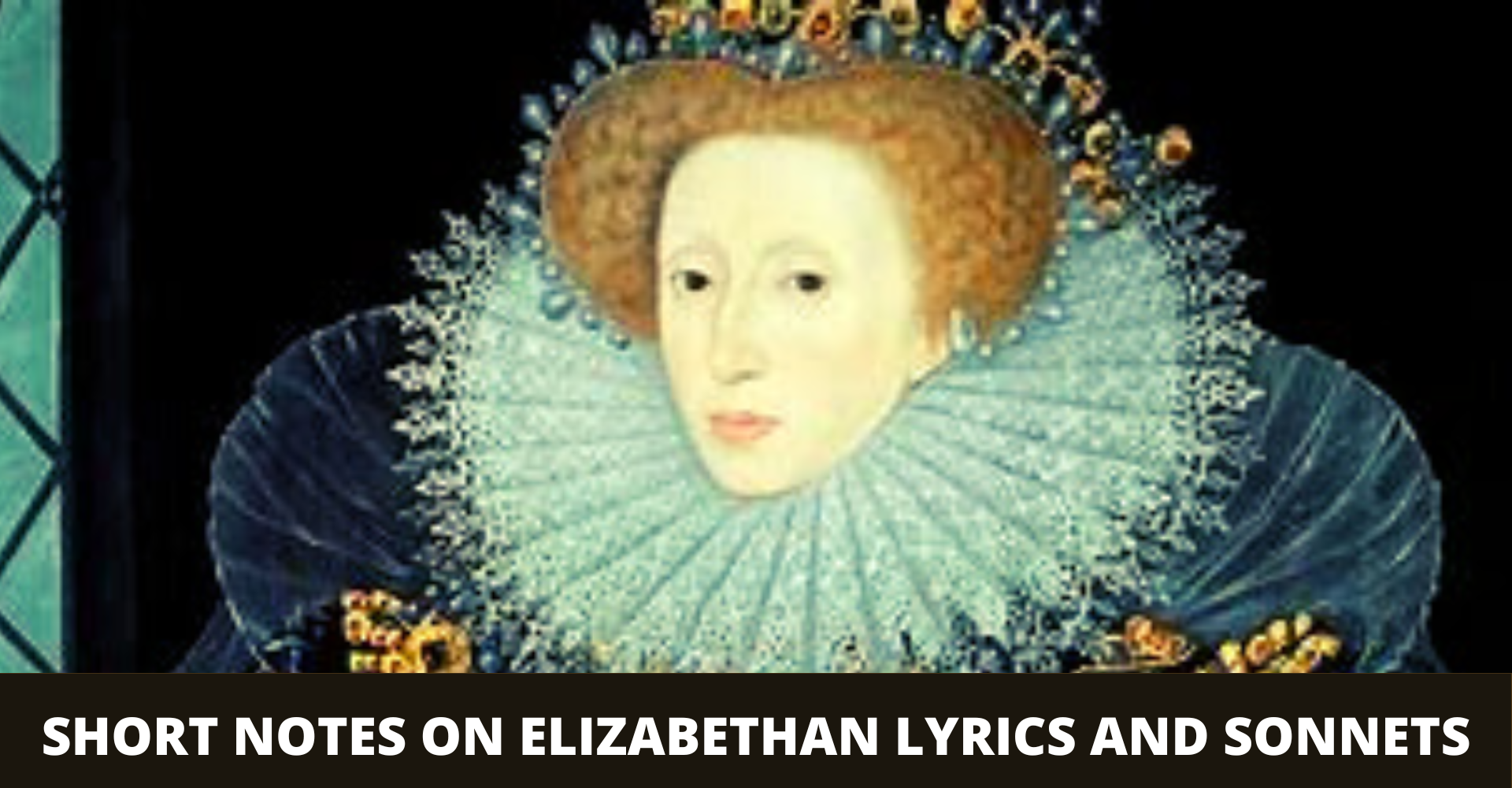 SHORT NOTES ON ELIZABETHAN LYRICS AND SONNETS

Poetry in the Renaissance period took a new trend. It was the poetry of new age of discovery, enthusiasm and excitement. Under the impact of renaissance the people of England where infused with freshness and vigour. These qualities are found in Elizabethan poetry.

The poetry of Elizabethan age opens with the publication of the volume known as Tottel's Miscellany (1557). This book brought together 2 types of lyrical poetry – the song and sonnet. Lyrics were composed in abundance. They were rich in sensuous expressions and rich in musical quality. Sir Thomas wyatt and The Earl of Surrey mark the first English poetry of the Renaissance. Wyatt and Surrey wrote a number of songs specially sonnets. They tried to popularise so nuts. No wonder with the efforts of Wyatt and Surrey sonnets writing become very popular.

Another poet of the Elizabethan group of poets was Thomas Sackville. He surpassed Wyatt and Surrey and introduced new poetic techniques in his poems. Sir Philip Sidney was the greatest among the Elizabethan  lyric writers. He was also one of the important sonneteers of the Elizabethan age. He sat the fashion in sonnet sequence by writing a series of 108 sonnets. As a sonneteer Sidney hither remembered for his unforgettable sonnets, Loving In Truth and Come Sleep Oh Sleep. Sidney's sonnets are remembered more for their literary, virtuosity than for their poetic merit.

Samuel Daniel (1562-1619) like most of the poets of Elizabethan age was a scholar, courtier and a friend of Shakespeare. He made a mark as a great lyrical poet as well as a great sonneteer of the Elizabethan age. His sequence of 50 sonnets Delia was addressed to be a living lady whose identity has been variously surmised. Together with Drayton he popularises the English format of the three Quatrains and a couplet, laying the foundation for Shakespeare's masterly handling of the form. His sonnets are mostly on love inspired by a lady.

Michael Drayton (1563-1631) was a prolific writer. He distinguished himself as a great sonneteer. In his Ideas Mirror contemning 51 sonnets, he honours a lady whose identity is a matter of guess. His sonnet, Since There Is No Help, Come Let Us Kiss And Part has been so magnificently written that Drayton is still crowned for this sonnet.

Edmund Spenser (1552-1599) was riding the wave of popularity as a great sonneteer and as a great lyrical poet. His sequence of 88 sonnets, Amoretti tells of his love for Elizabeth Boyle with whom he was wedded in 1594. His memorable sonnet Hymns Unfold his love passion not so much for the physical charm of the lady as for her Devine qualities. Spenser is the second great sonneteer after Shakespeare.

William Shakespeare (1564-1616) was one of the best sonneteers of the Elizabethan age. He wrote 154 sonnets. His sonnets are mostly addressed to the dark lady. Shakespeare sonnets are replete with the love laden feelings.

Like sonnets the Elizabethan poets composed some of the great lyrics which have inspired and are even now remembered for their music and melody. Sidney's lyrics appear in the sonnet sequence. Astrophel and Stella, evidently the lyric took firm roots in English soil and soon burst forth into the song concert of the Elizabethan's.

Shakespeare followed his lyrical genius in most of his memorable comedies. There is variety in subject and form that seen to be superior to the sonnets. Shakespeare's lyrics are rich in music and melody. If Shakespeare had written nothing else, his lyrics alone would have been sufficient for his greatness and popularity. Among the best which are even now remember can be found and When Icicles Hang By The Wall, Love's Labour's Lost, Tell Me Where Is Fancy Breed (The Merchant Of Venice) and Under The Green Wood Tree (As You Like It).

John Lyly (1554-1606) was the first among the Elizabethan dramatist to introduce lyric into his plays. His important lyrics are What Birds So Sings, Yet So Does wail and Cupid And Campaspe.

Thomas Lodge (1557-1621) wrote lyrics which contain in the sonnet sequence Philis. His best lyric poems is Rosalynde. The famous line, 'love in my bosom like a bee' attracted everyone.

Robert Greene's (1558-1592) lyrics are interspersed in his prose, Pamphlets and Romansage. His best lyrics include Fair Is My Love, sweet are the thoughts that savour of content.

In brief Elizabethan age is remarkable for its lyrics and sonnets. The poet of this age enriched the literature of this period by writing memorable sonnets and lyrics. Elizabethan lyrics and sonnets are appreciated and admired for its richness and variety.