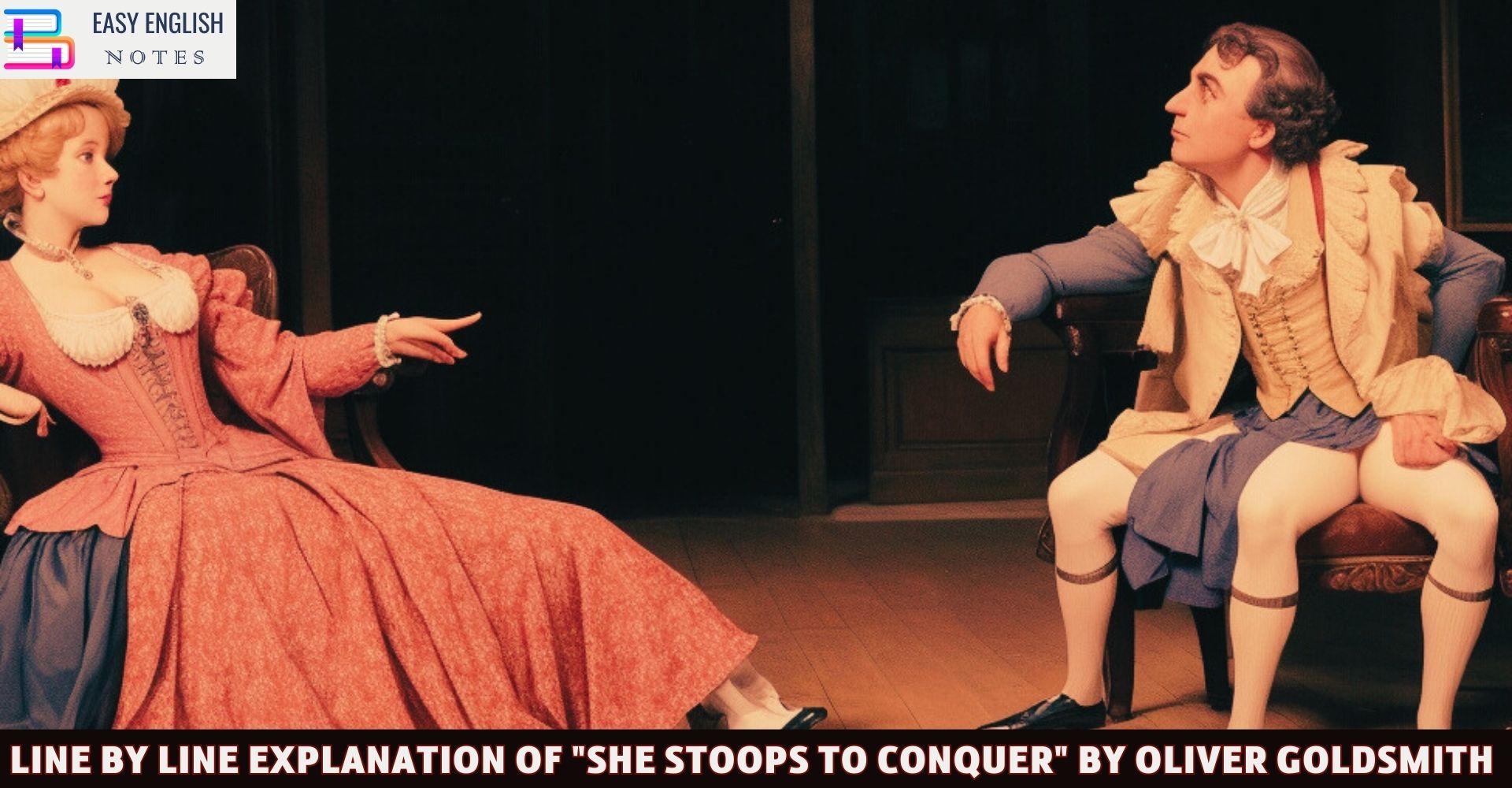 Line By Line Explanation Of "She Stoops to Conquer"
A fortune like mine……….another.
In these lines Miss Neville reveals the real secret of her affection. Mrs. Hardcastle wants that she should marry her son. Tony. But Neville has no liking or love for a truant and vagabond like him. She would somehow manage to escape from her trap. She would show outwardly that she loves Tony, but really she loved Mr. Hastings and wanted to marry him.
She says that her gold and jewellery are not such a great fortune. She cannot marry against her will simply because Mrs. Hardcastle has all her jewellery under her possession. If Mr. Hastings remains firm and constant in his love for her, she would make it difficult for Mrs. Hardcastle to influence her and win her over to marry Tony Lumpkin. However, she would make a show that she loves Tony, and then, when the proper time arrives, she would- transfer her love and announce her affection for Mr. Hastings.
Critical Note-A romantic comedy always brings forth complications in love. The plot of a romantic comedy consists in creating the complications and finally in resolving them. She Stoops to Conquer is, thus a typical romantic comedy.
No, no but…..…..of peace.
Marlow and Hastings come to meet Mr. Hardcastle on the advice of Marlow's father, Sir Charles Marlow. Marlow has to meet Miss Hardcastle for matrimonial purposes. Hastings has come with him as a friend and adviser. They happen to meet Tony at an inn and ask him to direct them to the house of Mr. Hardcastle. Tony, a mischief-monger by nature, plays a practical joke on them. He directs them to the house of Mr. Hadcastle but at the same time tells them it is an old inn where they can stay for the night and find out Mr. Hardcastle's house in the morning.
He further tells them that the master of the inn (Mr. Hardcastle) is a typical man. He is shortly going to leave off his business of inn-keeping. He is a rich man and therefore wants that he should be taken for a gentleman. As such, when you stay at his inn. he may like to join you at the hoard. This you should not mind. He may also tell you that his mother was an alderman in the municipality and his aunt a magistrate. With these instructions Tony sends Marlow and Hastings to Mr. Hardcastle's house giving them the impression that it was really an inn and Mr. Hardcastle the inn-keeper.
Critical Note-Tony Lumpkin is the source of all fun and humour in this play. He plays a practical joke on Marlow and Hastings with the result that Marlow, otherwise a very modest young man, behaves very impudently with Mr. Hardcastle under the impression that he is just an inn-keeper. A series of misunderstandings and mistakes follows from there. This is why the play is sub- titled: The Mistakes of a Night.
The Englishman's malady…..…..know.
Marlow tells Hastings that he has really gained nothing from his experience of the world. But he adds that his experience has been very limited and circumscribed. He has never moved freely in the company of sophisticated and respectable women. And without the company of respectable women. man learns nothing of the world.
Marlow says that this is the handicap with all Englishmen. Explaining his position further he says that he has passed most of his life in a college or an inn. The experience in both these places is limited. It is cut off from the world, and therefore he has mostly lived in seclusion. He has never had the opportunity of being intimately familiar with high class sophisticated women. And as we all know, man gains confidence only when he gets the opportunity of freely mixing with high class women. Marlow says that he has never known a respectable woman except his mother. He adds that he has indeed a good deal of experience of the company of the women of the lower class, such as domestic maids, barmaids etc. With them he can deal with confidence.
Critical Note- This gives the clue to Marlow's frank and bold dealings with Miss Hardcastle in the guise of the barmaid. When Marlow met Kate as Miss Hardcastle. he could not properly talk to her on account of his bashfulness and modesty. But when he met her. disguised as a barmaid, he not only freely talked to her but also professed his love to her and caught hold of her hand. He was bold enough with women of the lower class.
Not in the least…..…..to you.
Marlow and Hastings have come to Mr. Hardcastle's house presuming it to be an inn. When Mr. Hardcastle joins them in conversation. Marlow feels a little puzzled. Why should a mere innkeeper try to pose that he is a gentleman? In the course of their conversation. Hastings turns to talk about the political situation in the country. Hardcastle immediately says that he has absolutely no interest in politics.
He says that once he was very much interested in the game of politics and bothered too much at the inability of the government to handle many national situations well. But he found that for all his mental vexation and agitation the government remained absolutely unconcerned. Unnecessarily he fretted himself mentally and emotionally. The more agitated he felt, the more insensitive and unresponsive the government seemed to grow. So he gave up the attempt. Now he no more bothers his head about Hyder Ally or Ally Cawn than about Ally Croaker (a character in an Irish song). Now all is the same for him. However, he pledges all his services to Marlow and Hastings.
Sir, you have……….eaten it.
Marlow and Hastings are staying at the house of Mr. Hardcastle under the impression that it is an inn. They freely and even insolently behave with Mr. Hardcastle as if he were really an innkeeper. They misinterpreted Hardcastle's lavish entertainment at supper believing that he was doing all that to increase his hill. Therefore a little before the supper is served they ask Mr. Hardcastle to show them the menu for their choice and approval. Mr. Hardcastle is greatly astonished at his odd behaviour of his highly valued guests but he takes all this in light spirit thinking the two friends were only trying to be too free and informal with him.
So Hardcastle says to Hastings that he has every right to see and approve the menu for the supper. Then he asks his servant. Roger to produce the menu if it is ready. Turning to Hastings he tells him that his manner of examining the menu reminded him of his uncle, Colonel Wallop, who used to say that no man could be sure of his supper until he had eaten it.
Critical Note-Mr. Hardcastle in his genial spirit takes even the insolence of the two friends sportingly. So far he did not have the idea that the two young men were taking his house for an inn and him for the inn-keeper. All acts of insolence and had manners on the part of Marlow emerged from this misunderstanding.
The assiduities……….got here.
Marlow and Hastings are both puzzled at so much informality and hospitality of their hosts. In the normal course the innkeeper and his wife don't mix so freely with their guests staying at their inn. But these hosts were trying to overplay their part in entertaining them and looking after their comforts. Their excessive attention and informality became perplexing and teasing to them.
Also Read : 
So Marlow says that he feels uneasy at so much attention to them by the innkeeper and his wife. The innkeeper believes that it is a discourtesy to leave him alone. Therefore he constantly keeps company with him. Not only this, he has also put his old wife after him. The husband and wife were also going to join them at supper. With them their whole family was also likely to join them at supper. This was going too far of them to tease us to the limits. At this moment his attention was drawn towards two young ladies who were arriving there, and whom, of course, he did not recognize.
O! Sir, you're……….Hastings.
Mrs. Hardcastle, an ordinary old lady, tries to took extremely modern and smart. Her only regret is that she has not found chance to mix up and live in the high class and fashionable society of London. She is also sorry that her -husband. Mr. Hardcastle, is a very backward type of man completely cut off from the fashionable world. She feels that she is very oddly paired with her husband. In a bid to please her. Hastings praises her pleasing and refined manners and says that she appears to be highly sophisticated and aristocratic in all her tastes and bearing.
Apparently pleased to hear her praise from a smart young man like Hastings, she says that what he says only shows his gallantry and good taste. In all humility she says that country people cannot be so refined and polished as the people of London. However, she keeps herself a little above her neighbours on the basis of her love for London life and manners. Otherwise who can cultivate real manners without seeing Pantheon, the Grotto Gardens, and the Borough where the aristocrats live. She cultivates London etiquette and manners only through private dialogues, fashion magazines and reports. All her information is secondhand information, mostly collected from letters received from her two friends living in Crooked Lane, London. Suddenly she turns to Hastings and asks him how he likes to style of her hair. All this is the vanity and the old woman's excessive pursuit of modern fashions.
Ask me no……….time.
Mrs. Hardcastle was interested in Miss Neville agreeing to marry Tony Lumpkin. But neither of them was interested in the other, Miss Neville loved Hastings. The two had decided to marry, and if any difficulty came in their way, they would even elope to France. Tony came up to help them in their elopement.
On the night they had decided to elope, all was ready except that Neville's jewellery was still with Mrs. Hardcastle. Neville was reluctant to leave her jewellery because it was left for her by her late mother. Just at this moment came Tony Lumpkin and handed over to Hastings the casket of jewellery and requested him not to ask him any questions about it, otherwise he would tell him foolish stories about it. From his own side he said that he procured the casket in the most ordinary way. He had the duplicate keys of all his mother's bureaus, otherwise how could he go to the alehouse every day? Without even so much of arrangement and manipulation an honest man would lose even that which is his own. His reference is to his own share in his mother's property.
A parcel of……….contrary,
Miss Neville's mother had left some jewellery for her. This jewellery was kept in the charge of Mrs. Hardcastle. Mrs. Hardcastle was interested that Neville should marry her vagabond son Tony Lumpkin. In order to bring some pressure on Neville to agree to marry Tony Lumpkin, she avoided giving her the ornaments on one excuse or the other. However, Neville was not at all interested in Tony. On the night when her lover Hastings came to stay at their house with his friend Marlow. Neville once again demanded her jewellery.
Being in the old habit of evading her demand. Mrs. Hardcastle tells Neville that those ornaments are so old-fashioned that they would not at all suit a modern young lady like her. She says that all those ornaments are cut and set in the most outdated fashion. They are all mechanically made In them she would appear like a puppet of the court of king Solomon. Moreover, she said that she had forgotten where she had kept them and could not find them easily. It may also be possible that they may have been misplaced and lost. This probability could not be ruled out.
So them, all's……….barmaid.
Marlow and his servants have been unbearably insolent, immodest and ill-behaved during the night of their stay at the house of Mr. Hardcastle They have been doing so under the impression that Mr. Hardcastle's house was an inn. Mr. Hardcastle himselt the innkeeper and Miss Hardcastle the barmaid. But gradually Marlow has come to know the truth. On learning that this was Mr. Hardcastle's real house, he feels morally ashamed for his insolent behaviour with Mr. Hardcastle and Miss Hardcastle. He curses himself for his foolishness and offers unconditional and unqualified apologies.
Cursing himself he says that all is now lost. He has been grossly deceived. He curses his own understanding and lack of judgement and says that the whole town will laugh at him. He will be painted as a fool and his pictures will be sold in every shop as the Dullest Macaroni. What a folly it was to mistake his house for an inn and Mr. Hardcastle, his father's friend. for the innkeeper! What a contemptuous dog he must have taken him for! And above all, cursed as he is, he had taken his dear Miss Hardcastle for the barmaid. Thus Marlow indulges in impotent rage and curses himself heartly.
I never knew……….resolution.
Marlow's disillusionment and repentance bring the other side of his character and personality to Mr. Hardcastle and Miss Hardcastle now discovers in Marlow many qualities which remained undiscovered so far.
She now discovers many new qualities in him. She had not seen even half of his merits till then. Now she will not let him go, if she has the power and tact in her to detain him. She will continue to play this role. stopping to conquer him. She will tell everything to her father, who may just laugh away his folly and shake him from his determination to go away from here.
Critical Note -This is the common pattern in all love comedies. Complications in the course of love are created in the beginning of the story. Gradually all those complications are resolved one by one and the story heads towards a happy conclusion.
But why won't……….uninteresting.
Sir Charles Marlow arrives at the house of Mr. Hardcastle. Mr. Hardcastle complains to Sir Charles how insolently and defiantly Marlow and his pack of drunken servants had behaved with him. But gradually that misunderstanding had been cleared. Mr. Hardcastle further said to Sir Charles that Marlow liked his daughter Kate and loved her and therefore their matrimonial relationship should be approved.
Thereupon Marlow protests and insists that he should he heard. He swears and says that he has never given Miss Hardcastle the slightest expression of his love to her. He has not given even the remotest hint of his love to her. In fact, he says, he has met Miss Hardcastle only once and has had a very short interview with her, and that too most formal, cordial and cold. There has never come a chance when he could express his liking or love for Miss Hardcastle.
As most professed……….rapture.
Sir Charles wants to know the real position of Marlow's attitude towards Miss Hardcastle. Therefore Sir Charles and Mr. Hardcastle call Miss Hardcastle into their presence and want to know from her how Marlow behaved with her at his meeting with her and whether he professed his love for her.
Miss Hardcastle says that Mr. Marlow behaved as most celebrated admirers do. He said many good things about her face, talked of his own shortcomings, and of her merits. He mentioned the ache of love in his heart. made a short speech on despondency and finished with a promise and prospects of great happiness.
Ay heavens, madam……….virtue.
Miss Hardcastle in the guise of a maid had alleged that Marlow was no admirer of beauty and virtues. He was seeking through marriage, wealth and fortune. Therefore all his professions of love to a mere maid were superficial and false.
Marlow protests against such an allegation. He asserts and swears that fortune has the least importance for him. It was her beauty that his attention first. for her beauty is so moving. And every moment that he talks to her, he discovers a new grace in her. This goes on heightening her impression upon him. What first appeared as a common plainness now impresses as sophisticated simplicity. What at first appeared to be immodest allurement now appears to be the result of hold innocence and consciousness of virtue. Thus Marlow expresses and professes his whole hearted love for Miss Hardcastle, and all these professions of love are Beaverhead by Sir Charles and Mr. Hardcastle.
PLEASE HELP ME TO REACH 1000 SUBSCRIBER ON MY COOKING YT CHANNEL (CLICK HERE)